Head coach Csarnakovics: Ignatik – Horansky was the best Futures final I have ever seen
l4tAdmin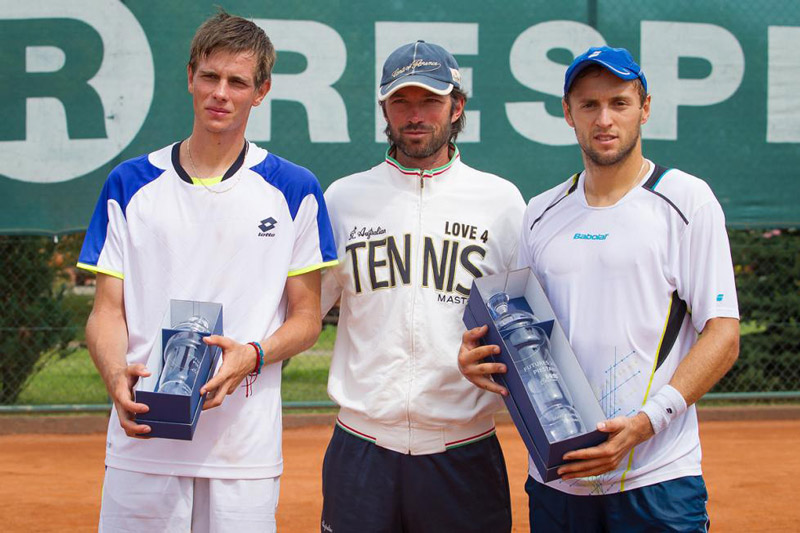 Never before in history of LOVE 4 TENNIS Academy have played two of our members in the Futures final of singles draw. On Sunday Uladzimir Ignatik met Filip Horansky in Piestany. Ignatik won in two sets 6-3, 7-5. Both players were closely watched by their coach Erik Csarnakovics.
Head coach admitted, it was not easy to have both his players in the final. "It was not as easy as I thought at first hand. I did not come for the warm up before the game. Final was dramatic enough. We made agreement, that as coach of both players, I will not say or support anyone. However I watched it carefully," explained Csarnakovics. "Both of them are my players, and even though I did not tell them anything, I had the intention number of times during the game. It was not easy to sit there quietly. I made notes for myself. I saw all their matches in Piestany. Both reached the final without dropping a set, that speaks for itself," continued head coach.
For Ignatik it was third title at the Futures this year. He won previous two in Czech Republic. Horansky had a good chance taking his fourth, but he has to wait for it for now."Uladzimir was also doing physical training sessions in Piestany. In the morning he played tennis, in the afternoon he had physical preparation. He did not play for a week before the tournament, but still he made it through the semi-finals. He played his profi tennis, I am not sure I have seen him play this well," evaluated Ignatik's performance his coach Csarnakovics.
He also added his thoughts about Filip Horansky. "Filip had great moments in his game and then he dropped his game because of decisions of the referee. This is also a task for Filip, not to get distracted by small things. In terms of tennis, he played great, there were only details missing. Against Top 200 players, he needs to play his maximum.  I would say, it was a match on the level of challenger quarterfinal or final of the ATP qualification event. It was the best final of Futures I have ever seen,"added head coach.