Horansky with first title after joining L4T, asks for domestic quality
l4tAdmin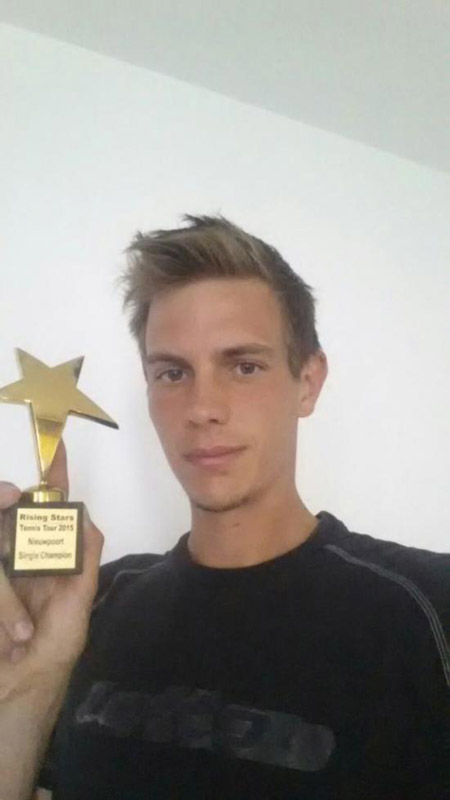 Kristina Kucova won shortly after joining Love 4 TENNIS academy singles title in Torun, Poland. Filip Horansky (22) achieved something very similar, when he won his first trophy, after joining L4T – Futures tournament in Nieuwpoort, Belgium. "We know each other with Erik Csarnakovics for long, from different tournaments. Moreover, I often joined guys in academy as a sparing, and played with my coaches, so I know the people and academy itself pretty well. At the end of last season, I stopped playing as an NTC player, and I needed good quality preparation at home, " said Horansky about his reasons to join L4T, former Top 3 world junior player and winner of doubles title at the junior Australian Open 2011.
Horansky is currently No. 333 in the ATP rankings, in May 2015 he reached his career best (No. 325). "Filip practised with us one winter. I have good relationship with his coach Detlef Irmler in Germany. Our players were together in Turkey and they have trained together," suggested reasons for co-operation Csarnakovics. "Filip is a good link for our guys like Milos Mecir, Illya Marchenko and Uladzimir Ignatik. Also potential is very similar. Regarding his game, at the moment I would compare him to Adrian Partl or Danylo Kalenichenko,"  continued head coach, who will be responsible for Filip and his preparation in L4T academy. "Together with my colleague Jan Stancik we have discussed a lot his current situation. In the past he was used to individual approach from coaches. Nowadays, he looks more professional during his training sessions. It is not difficult to apply positive changes to his game, he is a team player. He is able to adapt to our academy, because here, we are not solely individual coaches."
Horansky proved, not only with his five singles titles at the Futures tournaments, that he can reach  beyond this level. "I believe his game is in challenger level. However he needs to adapt to it, tennis played there is bit different to Futures. Players are more experienced, they produce less errors. He needs to make most of his good form, play well twice in a row in first and second round, not to say about the rest," added Csarnakovics.
Horansky also practices a lot abroad, in Dusseldorf, Germany. "L4T is great. Organisation, coaches, all staff and players. We all get on very well. About Eric, he is very experienced, he has lot to say, interesting ideas just like Jan Stancik and other coaches in the academy. I am very happy to use their services to my prospect," explained Horansky at the end.