Coach Toth about Marchenko, who is training in LOVE 4 TENNIS: Very disciplined guy
Love4Tennis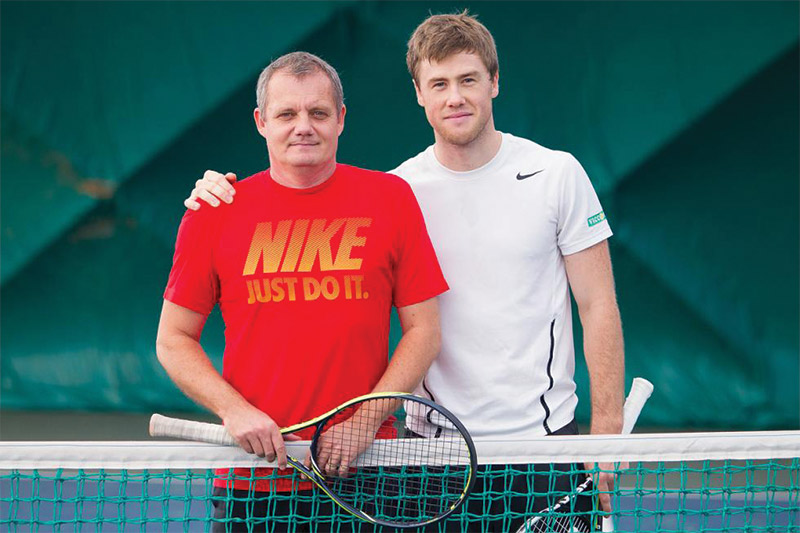 Illya Marchenko found very good coach in Slovakia and also because of Tibor Toth can be pleased with his comeback into the Top 100 of the ATP rankings, being currently No. 94. All the preparation process and training process is in charge of Tibor Toth mainly in LOVE 4 Tennis Academy (Ukrainian is a member of the academy) on his favourite hard courts. He has sparing in L4T including Mecir, Ignatik and Horansky.
Toth is the main reason, why is the winner of four challengers at the moment in Slovakia. He won his third challenger title a year ago in November in Brescia, Italy, after making agreement with Toth about their co-operation. His fourth is a recent one from Belgian town of Mons. "This season was one of the best in my career. I am very happy how I play, how my game improves and made it back into the TOP 100." (You can read more about Illya and all his reasons for coming to Slovakia in the latest release of Tennis Arena 11-12/2015, which you can buy  in LOVE 4 TENNIS club.)
Tiboth Toth told us more about Marchenko in interview for LOVE 4 TENNIS:
Why do you practice with Illya in LOVE 4 TENNIS Academy?
"I used to play with Stakhovsky or Bubka at TK Slovan Bratislava clay courts. It was perfect for them, but Illya prefers more on hard courts. In my opinion, best hard courts are in L4T. We have great conditions here, play sparing with Mecir, Ignatik, Horansky or with Swiss Chiudinelli, when he stays in Bratislava. We combine it with sparing in NTC. We can play as much as we want, hard helps us."
How do you evaluate 2015 season?
"Our main goal was to be back in Top 100 of the ATP rankinga, but we could have achieved this even earlier. There was a decrease of form, Illya played several tournaments badly in summer. However as from the challenger in Vancouver, he was playing better and better, had good run of tournaments in America, his game was improving. He beat Gulbis, and even though he lost against Ustov, we saw rise of form. He played better at US Open, Davis Cup helped him a lot in September against Lithuania. He was the right leader of the team. It helped him mentally, he won two singles and also doubles and Ukrainians managed to win the play-off tie."
Do you set goals for new season 2016?
"Our main goal is to play good tennis. I know Marchenko very well for quite some time. From the times when I was with Ukraine at Davis Cup, we met each other at tournaments. His main strength is his discipline. If you tell him something, he accepts it. We managed to work on several aspects of his game, to improve serve for example. He serves extremely well. He had a match with 16 aces, as strong as 220km/h. He always had good return, although now he changed his movement on the court. Although he says, he is more of a defensive player, on recent tournaments he likes to go into the court more and attacks. He had several matches, which did not even last an hour. Before, even against weaker opponents, his matches were equally long, he was struggling with the weaker players. Now he is much more convincing against players ranked below him, when he is favourite."
More attacking tennis, is it something that can take him higher in the rankings?
"I think so, because if he wants to beat better players, he cannot just wait for their mistakes. He needs to react even during the match, not to panic, if his opponent changes something in his game. He needs to be able to change the rhythm of the game. He also needs to find the ideal length and accuracy during longer rallies. We have lot of work ahead of us. In terms of his game, tactics and mentally as well. Even though he likes hard courts, he understood tennis on clay, how to move there and possess more variety on different surfaces. He used to play the same tennis on clay, changed the rhythm of the game, played lifts and slices. Body does not suffer as much on clay and he has had quite number of injuries, including surgeries on both his knees."
Coming back to Davis Cup. Ukrainians had strong team (Dolgopolov, Stakhovsky, Marchenko), however somehow they are underperforming…
"They have strong team, probably bit stronger than Slovakians. However it reminds of our team – they simply cannot get together at one place at the same time. Either Klizan plays and Lacko does not, or they do not have the right form at the right time. Davis Cup management should work better in Ukraine; they are certainly capable of making the World Group. I still think DC is not about that one week with the team."
Can you explain it?
"It is long term process and work with players. Team building is very important and one requires travelling around and seeing them at tournaments. Great Britain is far ahead in these things, even the doubles coach travels around with them. Doubles are very important; nobody cares about it in Slovakia and Ukraine. There is no one to go around and communicate."
What about the relationships between players now and then?
"I can compare era when Kucera, Hrbaty, Beck, Mertinak and Polasek played and reached the DC Final. At that time, everyone looked forward Davis Cup. Now I do not have such impression, it used to be memorable events. It used to be more fun. All the players went down to have a dinner together. Nowadays, players have their phones, notebooks. They order room service and stay within their room. When we used to travel with Dominik Hrbaty, it was more common to go out for dinners together. With Slovaks, Czechs, there were eight, nine of us, together with Berdych, Levinsky, Pala, Damm and Stepanek. Nowadays it is missing."
What was your position within the Ukrainian Davis Cup team?
"I coached Stakhovsky and when young Bubka appeared on the scene, I took care of both. My first Davis Cup with them was in Cherkasy, where I was as a coach of Stakhovsky. Ores Tereschuk was the captain of the team. I was there as a coach for two years, had good co-operation with Tereschuk."