Gombos practised with Marchenko, he has good relationship with LOVE 4 TENNIS
l4tAdmin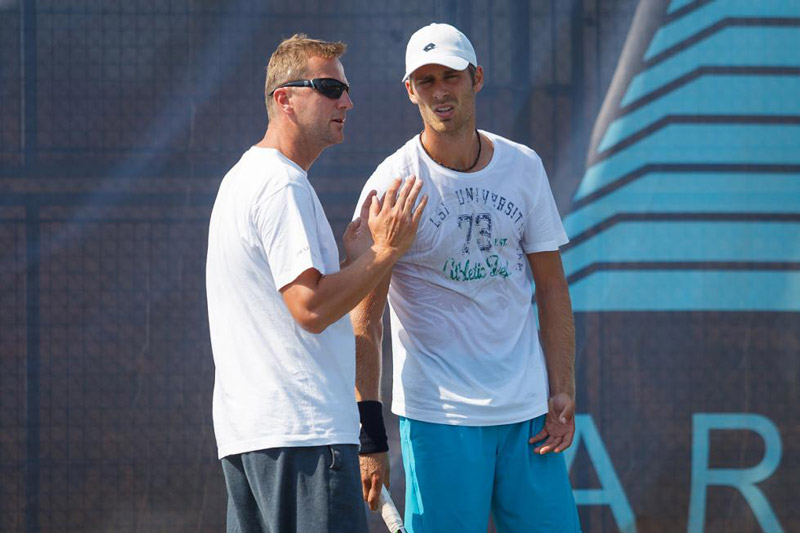 Norbert Gombos, Slovakian Davis Cup team member, is getting ready for the hard court season. Qualifying for the US Open is approaching and he wants to be fully prepared. Slovakian tennis player was together with Karol Kucera on courts of Bratislava tennis club LOVE 4 TENNIS, where he played with sparring, Illya Marchenko, coached by Tibor Toth. At the same time, Russian junior winner of Roland Garros 2014 Daria Kasatkina with her coach Vladimir Platenik were also on the courts and on the clay court close by was member of LOVE 4 TENNIS Academy Uladzimir Ignatik.
Gombos, No. 126 in the ATP rankings, feels like home in LOVE 4 TENNIS Academy. "I have very good relationship with all the people from the club. We talk a lot about tennis with Erik Csarnakovics, he used to be my coach for four years. He raised me for men's tennis. I enjoy coming back to L4T. When I am there, I talk with all the coaches. I enjoy my time there, it is positive change, not to spend all the time in the National Tennis Centre (NTC). I go back to meet up all the people I grew up with,"said Gombos, who started playing on hard courts from Monday. He is getting ready for US Open qualifying, before that he will play in Portoroz challenger in Slovenia.
Gombos had sparring with Ukrainian Marchenko in LOVE 4 TENNIS, who is also preparing in Bratislava with his coach Toth. "Illya is a great player. I knew it was going to be great practice match. I did not have to have sparing with my coaches, we could play for points."
In Galanta born Gombos is now looking forward tournaments on hard courts. Maybe even more, because everyone around keeps telling him how his game suits this surface."I won my first challenger on hard court, even though bit slower. All the people say I have a good game for hard. I am satisfied with clay season, although it can always be better. I would like to be in the top 100 by the end of the year. I hope I can make some points," hopes Gombos.