Kids love LOVE 4TENNIS, tennis camps will be available
l4tAdmin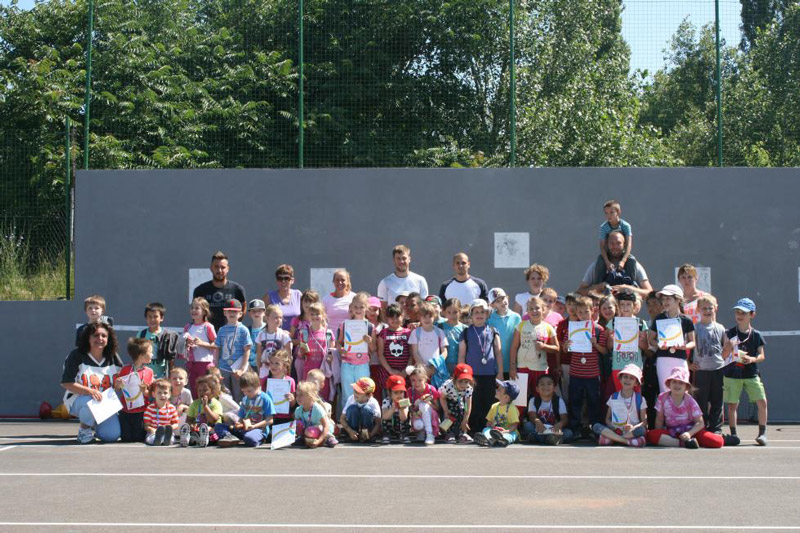 Co-operation between LOVE 4TENNIS Academy, Tennis Academy RADO and Riazanska school together with municipality of Nove Mesto, district of Bratislava, over 40 children visited our academy to try different sporting activities on the tennis courts. Radovan Staba was their main lecturer, who organizes summer camps for us starting from beginning of July.
Existing co-operation will be extended to cover also the Letna kindergarden. "Children play out there during the winter. We try to bring them to the tennis courts, so that they feel the taste of tennis to attract their attention and persuade them to come to the summer training camps. Then we inform them via bulletins what sort of programme and trainings we organise," said Radovan Staba, children's coach. He also told us what it feels like to coach little children. "The most difficult part is to keep them concentrated and interested. Especially, if we are talking about larger groups. However if the coach is more experienced, he can manage. He must implement exercises and interesting activities for them, that will make them feel relaxed and enjoyed. Exercises need to be lively, with lot of movement, not static, so that children do not have time to get bored. Kids from Riazanska school are more skilfull than other kids in their age. They have good coordination, we work on it together with a school teacher. They are talented," added Staba, who also coaches a group of players duirng the year.
"From this amount of children coming to this event, maybe two or three will play tennis. I always count on lower numbers. I am satisfied, when more of them come anyway. I will do such events more often, children practice with us on Mondays, the youngest being three and a half years old," noted Staba, organising four camps in the summer.