Tina Tehrani makes the qualies final in Trnava
l4tAdmin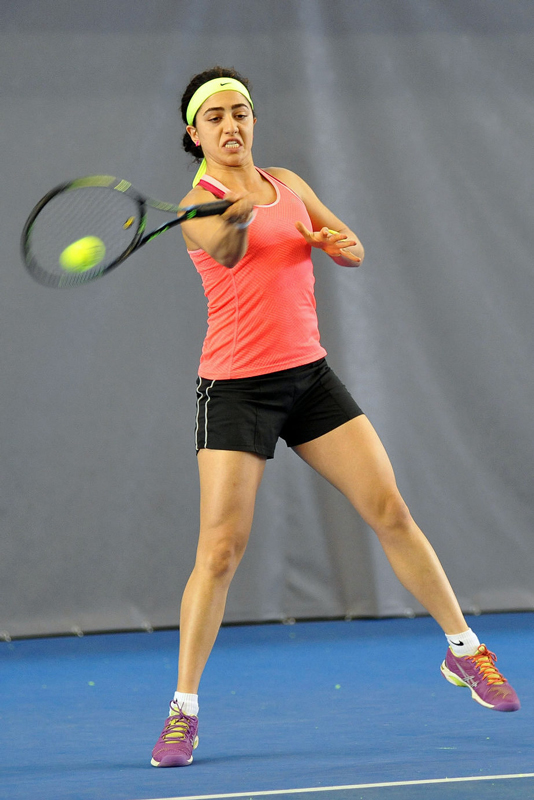 American Tina Tehrani (23) from LOVE 4 Tennis Academy played at the EMPIRE Women's Indoor 2016 in Trnava. She was successful in 2nd qualifying round, but unfortunately did not make it in the main draw.
Tina Tehrani is No. 993 in the singles WTA rankings, in August 2015 she was No. 940. She won both of her ITF doubles titles in 2014 in Antalya. Peter Jurik and Erik Csarnakovics are her coaches in LOVE 4 TENNIS Academy. "Tina is a very easy going person, she is very positive. When she comes on the court, she becomes complete opposite. It is getting better, but we have lot to work on," said Peter Jurik about the American player. Peter has watched and recorded both her qualifying matches in Trnava.
Tina had a bye in the first qualifying round; in 2nd round she beat Slovakian Jana Jablonska. "Performance in the beginning in 2nd round was not as good, with several easy errors. Tina improved as the match progressed, there were some good shots from here. She started playing more concentrated, consistently, without unforced errors. In 3rd set at 3-0, her opponent started having back problems apparently and since then the match was pretty straightforward," said Jurik about her win 7-6(2), 6-7(5), 6-3. In the qualifying final, Tina lost to Czech Vlkovska in two sets 0-6, 3-6.
Tehrani has roots in Iran, but was born and lives in America, used to play and train in Spain. "She travels a lot. She came here and also tried Vienna and decided to join us. We want her to play 10K tournaments. She is more suited to play at hard courts than clay. We might try playing qualifying at 25K tournaments in Germany, but most probably she won't make it, so we will spend some time practising in LOVE 4 TENNIS," added Jurik.